SkyPixel Announces Winners Of Its 2018 Aerial Storytelling Contest
Photo Winner Captures the Majestic Mont Saint Michel in France in a Foggy Morning, and the Video Winner Shares an Inspiring Collaboration of His Adventures
March 25, 2019 - SkyPixel, one of the world's most popular aerial photography community, announced the winners of its 2018 Aerial Storytelling Contest. Co-organized with DJI, this year's contest attracted over 30,000 submissions from professional photographers, videographers, aerial enthusiasts and content creators from 141 countries.
The Video Category grand prize winner Ain Raadik shared a collection of adventures from his travels across New Zealand, Japan & around his home in Australia. "For me drones are an incredible film making tool that help me to further share the ideologies behind my work through new and unique perspectives," said Raadik. "Instead of staying put in one place, my life stories are being told through accumulating explorations of new places with my Inspire 2. Passions for film making, testing physical limits and exploring new locations are all heavily influential factors behind my work. And I hope everyone would find their own passion in life and stick to it."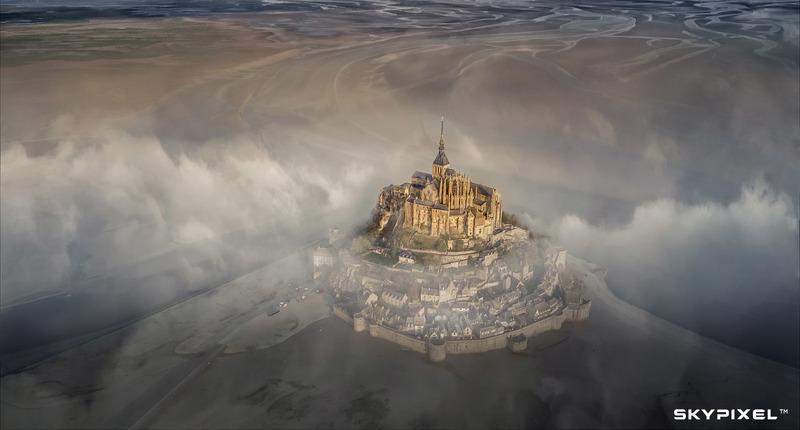 The grand prize winner in the Photo Category Deryk Baumgartner used his Mavic Pro to capture the sun-bathed monastery rising out of fog, framed by the ribbons of water on Mont Saint Michel in northern France. "I was sitting on a rock fighting with stubborn wind and thick rain for the whole morning. The sun came up when I was just about to stand up and go home," Baumgartner said. "This photo tells a simple story of you and me. Stick to it for a little longer in life when you are just about to fold, the silver lining would often unveil itself."
In addition to the Grand Prize Winners, there were also First, Second and Third Prizes in the travel, sports, urban life, nature and creativity categories. From football match on Lofoten islands to morning prayer in Bagan to the dazzling traffic in Bangkok, the winning submissions captured amazing stories that took place in different parts of the globe. To view the submissions, visit https://www.skypixel.com/contests/2018.
This year, the judging panel included a jury of award-winning directors, photographers and influencers, including Toby Strong, famous documentary photographer who has won many Emmy and BAFTA awards, and Ben Nott, one of Australia's most prestigious DP and an ACS member.

Every year, SkyPixel organizes aerial photo and video contests to call on creators around the world to share their artwork and stories captured from above. This contest marked the inaugural celebration for both photographers and videographers to come together in a single event.
For more information please contact: campaign@skypixel.com
*Permits were obtained, where applicable, in all locations depicted in awarded photos and videos. Always follow applicable rules and regulations in your jurisdiction when flying.
About SkyPixel
SkyPixel was founded in 2014 and has become a leading global community for aerial photographers and videographers. The platform has over six million registered users and hosts thousands of aerial images and videos uploaded daily by users from around the world. Leading works have received over 1 million views. The world's largest aerial photography contest was hosted by SkyPixel in 2016, with over 27,000 entries received from 131 countries. In addition, SkyPixel also promotes the growth of the aerial community, with an educational section featuring key experts of aerial imaging who provide tips on how to produce the best aerial photography. For more info, please visit www.skypixel.com.