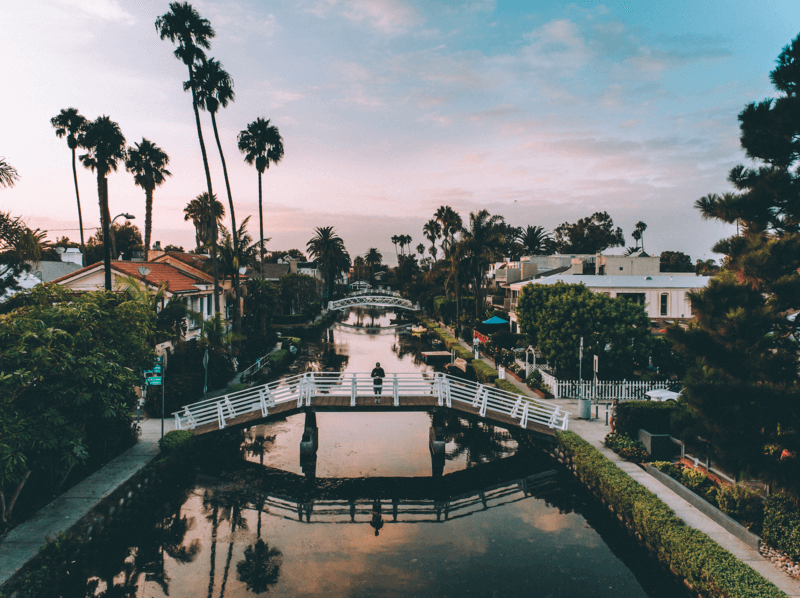 Terry Mclaughlin is a Los Angeles-based photographer who first picked up a camera in 2011 and hasn't looked back since. He has a wide range of styles, from journalistic street photography, to glossy editorial campaigns, to urban exploration. Increasingly he has came to favor drones, and has been building out a repertoire of landscape and aerial photography.
A frequent traveler, Mclaughlin has visited 11 countries over the past 7 years. Working with tourism boards from Denmark, Taiwan, and China, he has tried to bring to life remote locations where few tourists travel, and to put his own unique spin on popular locales. His photography has led him into collaborative projects with many of the world's top brands, including Adidas, Puma, DJI, and Adobe.
Mclaughlin shoots with Nikon camera gear, a fleet of DJI drones, and Adobe Lightroom and Photoshop for post processing. You can find him on Instagram at @asteryx.
Where did you grow up and what got you into photography?
I grew up in the Midwest in Wichita, Kansas. From there I moved to Kansas City, then Las Vegas, before settling in Los Angeles in 2006. That is really where my photo journey started. I was working as a server in restaurants and exploring the city with my camera in my free time.
I got addicted to it, the lookouts, the industrial parts with railroad tracks and graffiti, the beach. I would go on epic bike rides and take pictures of the murals, street photography downtown.
My following was built alongside the rise of Instagram. That is where I built my audience and it was through that platform that offers for my first photography jobs started to come in. I tried to juggle working as a server and photographer for a while, but those other jobs were holding me back. I quit last year to do photography full time, and it's been good so far. I started with just an iPhone, and now I also shoot with Nikon cameras, the D850 and the mirrorless D7.
So how did drones come into the picture?
As Instagram was getting bigger, a lot of the helicopter companies were trying to build their presence on social media. They would hire me to help them create content. So I did a lot of working leaning out the open door of a helicopter. I got really into aerial photography from that experience.
My first drone was a Phantom 4. Sure, there are certain things you can do with a helicopter you can't with a drone. But you can buy a drone; it's the same cost as two flights in a helicopter. And with a drone you can take your time and get the perfect composition.
Who are some of you favorite creators these days?
There are talented people from all over the globe that I follow. I would have to say @airpixels, his work is amazing. @nk7 is killing it in China. @rkrkrk is ridiculously talented from japan. @jordhammond is very inspiring.
And what advice would you give up-and-coming creators getting into photography?
I would tell them to go shoot every day possible and to always push themselves to learn something new. Put in work and strive to develop your own style, your own voice to share your photography with the world.
Any drone-specific advice you would give to photographers that are thinking about adding one to their kit?
We are in a golden age photography right now where we have some amazing tools available. I feel like drones are instrumental in this age and should be in every creator's kit to make them a relevant and versatile photographer/videographer. DJI gives us those tools and absolutely killed the game when it comes to forward-thinking technology.
I used to travel with a Phantom 4 Pro and a Mavic Pro but those have been replaced with the Mavic 2 Pro and I couldn't be more happy about that. So compact and packing so much power.
You started out chronicling the streets of LA, but increasingly your work focuses on nature. Tell me a little about that.
I wouldn't really consider myself a nature photographer but in the last year or so I have been branching out and doing a lot more hiking and exploring. I was in rural China and the Southwest deserts of the United States. I think the wildest experiences was hiking the "Stairway to Heaven" out in Hawaii.
While flying there I crashed my drone in the jungle. I spent a few hours looking for it with no luck. Then four days later I came back and tried again. I managed to locate it that time. It had been pouring rain, but I put the drone in some rice, dried it out, and amazingly it still worked.
During my recent trip to China I got the chance to capture images of two brothers, the last two of the real living cormorant fishermen. They use these trained birds to catch their meals and make their business. To control the birds, the fishermen tie a snare near the base of the bird's throat. This prevents the birds from swallowing larger fish, which are held in their throat, but the birds can swallow smaller fish. When a cormorant has caught a fish in its throat, the fisherman brings the bird back to the boat and has the bird spit the fish up.
What's coming up for you this year?
I really feel blessed that I can do what I love and make a living from it. My goal is to travel as much as I can and capture the world through my lens, just always seeking that next perfect shot.
When I first started shooting with my iPhone I had no idea how far that journey would take me. It's been an a wild adventure since then. Being self-taught, I am very proud how far my photography has taken me. I'm now a full-time freelancer and have been across the world learning about different cultures and experiencing the beauty that this world has to offer. Can't wait to see where my photography takes me next.